New Hall Art Collection & Hughson Gallery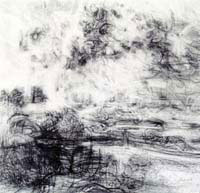 From an initial seventy donations in 1992, the New Hall Art Collection has grown to currently hold two hundred and fifty three artists, and three hundred and fifty artworks. Sandra Blow, Judy Chicago, Elisabeth Frink, Maggi Hambling, Paula Rego and Dame Barbara Hepworth are represented in the Collection, and by the end of the nineties just a handful of names from Scotland appeared in the catalogue. They were Elizabeth Blackadder, Beth Fisher, Gwen Hardie, Anne Redpath, Barbara Robertson and Kate Whiteford.
In 1999, the Hughson Gallery was asked to advise on the question of increasing the profile of Scottish artists (or of artists not necessarily Scottish but working in Scotland) in this growing collection of women's art, now second in size only to that held in Washington DC. (National Museum of Women in the Arts). A year or so later,in the spring of 2000, the exhibition Cambridge - Glasgow was shown in both cities, and ten new print acquisitions were presented to the New Hall Art Collection. The artists were Sam Ainsley, Wilhelmina Barns-Graham, Christine Borland, Ashley Cook, Jo Ganter, Elspeth Lamb, Iona Montgomery, Jacqueline Moon, Jacki Parry and June Redfern.
The urge to build on this strong print base led, in the spring of 2004, to the addition of a further five prints from Joy Bain, Ruth Beardsworth, Helen Fay, Hetty Haxworth and Fiona Watson - all based at Glasgow Print Studio, with the exception of Ruth Beardsworth, who has lived on the Black Isle since her retirement from Gray's School of Art in Aberdeen.
In 2005, it has been a great pleasure for me to have been instrumental in adding three Edinburgh-based artists to the Collection - they are Kate Downie, Anne Forte and Jenny Smith , and they are accompanied by Joyce Leitch (Glasgow) and Catherine Stewart who is based at the Malaspina Printmakers Society in Vancouver, BC. Catherine has in recent years exhibited in Cambridge (at the Institute for Advanced Mathematics) and also in Glasgow (Glasgow Print Studio and Glasgow Science Centre) and in Edinburgh (Edinburgh Printmakers.). Since 2003, four new names have been added; they are Kate Robinson, Shelagh Atkinson, Charmian Pollok and last but by no means least, Mary Christiansen, who will exhibit here in Glasgow in October 2008.
The temporary exhibition space at New Hall was made available to the Hughson Gallery over the summer of 2003, and two exhibitions were presented there : Still Lives by Margot Sandeman and a series of landscape drawings - Atantic Light and Motion - by Edna Whyte. Both artists presented a work from her exhibition to the Collection.
The New Hall Art Collection is online at www.newhall.cam.ac.uk/artcollection. The National Museum for Women in the Arts is at www.nmwa.org.