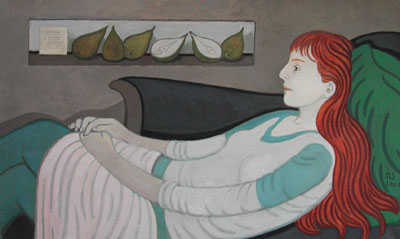 Margot SANDEMAN
(1922-2009)
Biography
Margot Sandeman was born in Glasgow in 1922, the daughter of Archibald Sandeman, a self-taught water colourist, and Muriel Boyd, internationally known embroiderer who trained with Jessie Newbery at Glasgow School of Art. Sandeman's own time at Glasgow School of Art was cut short by the outbreak of the Second World War, but by the early 1940s she had already established a friendship which was as deep as it was lasting with painter Joan Eardley, and had formed links with another contemporary, Ian Hamilton Finlay, with whom she later collaborated both on publications from the Wild Hawthorn Press and on a series of paintings.
Her unique talents were recognised early, by press critics and award judges alike - she won the RSA's prestigious Guthrie Award in 1958, and the Anne Redpath award in 1970. Also in 1970 she won a Scottish Arts Council Award, and in 1989 was the Scottish winner of the Laing Competition. Her solo exhibtions have been with the Richard Demarco Gallery in Edinburgh and the Hughson Gallery in Glasgow. She has contributed to mixed exhibitions throughout Britain and in the USA, and is represented in public and private collections in Scotland, and private collections in England.
The Critics…
6
6
1991
But in my long experience, among Scottish painters of her own time there is no other whose work reveals such a combination of deep-rootedness in a given place with an equally strong sense of mind set free to soar into a world of visual poetry.
10
1991
It could be the work of Matisse or a Japanese master but in its austerity, tonal harmony and harnessed energy it is emblematic of Sandeman and her ability to make line and colour dance to the same hypnotic tune.
This linear dynamic... also gives vivid life to the simplest subjects, the still-life vocabulary of shells, fruit and flowers, berries, domestic crocks and cadlesticks. She is painter and poet, musician and seer, designer and decorator… and a magician forbye.
11
1991
Margot Sandeman's amazing retrospective at Milngavie - 50 years of delicate, profouundly poetic discipline…
8
1989
Those arcadian places are peopled with introspective bathers, wanderers and picknickers in whose forms Sandeman echoes, on occasion, Manet and Seurat. Sandeman reflects upon a classical golden age, but in a way that makes us aware that these ideas live within us - that is to say she paints as a philosopher, not as a purveyor of nostalgia.
9
1989
Margot Sandeman's 'Shore at Dawn, Arran', has all the poetic stillness and golden magic reminiscent of the best romantic pastorals of Samuel Palmer and William Blake.
7
1949
It is impossible not to recall William Blake when looking at Miss Sandeman's religious themes. But this is due in no way to any superficial resemblance, of which there is none. It happens because Miss Sandeman's imagination has the same authentic quality of the waking-dream that Blake possessed. In her... you will find the true perception of the 'innocent eye' as distinct from the false naivete that so often deplorably apes it. Apart from their intensity of mood... these are designs of originality and distinction.