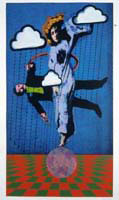 I used to think that the world was going to open up like a big sun for me
|
1998
screenprint | 81 x 141 cm
Ashley Cook is a graduate of Glasgow School of Art (1986) and has throughout the nineties been a regular award-winner. She lives and works in Glasgow.
My work tends to be quite intimate, and is informed by emotional responses to the myriad experiences, pleasant and unpleasant, which life throws our way. Sometimes I think my practice is a way of helping me to process these feelings. The images usually have a suggested narrative often with an ironic undertone. The titles are of equal importance to the image. Often a title is the starting point for my work. Colour is another important component in the work - I use strong colour expressively to set a mood.

I always work in silkscreen, on a range of scales from five feet to five inches. The prints are a fusion of autographic, geometric and photomechanical images. I use a combination of my own photography and found images. I now have an extensive library of images - they form a personal and archetypal iconography which I use repeatedly, manipulating the images and changing their context from one print to the next.

AC
New Hall Art Collection.