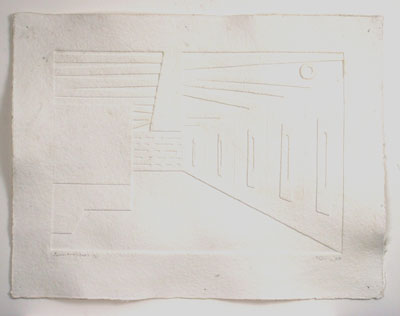 Artist Statement
All my work derives from the experience of a place, a moment in time but I have no interest in reproducing such a place or such a moment mimetically. Instead, I like to map and plot my way across a patch of land seeing what I can find, gathering objects both natural and manmade and collecting plant materials specific to the area around the found objects. These plant materials I will make into papers to be used as the medium for the artwork, in combination with the objects and often with a printed element. (I specialised in printmaking at Glasgow School of Art). Most of my papers reflect the natural colours of their origins and, as such, are an integral element of my work. I allow each artwork to develop at its own pace, some, like Boundary: Creag A'Mhadaidh taking ten years from the finding of the old, hand-formed, iron ring to the completion of the piece whilst others like 'One Summer of Madness' spring to mind almost fully-formed. (The latter is unusual in having no paper amongst its elements.)
From earliest childhood I have been a dedicated walker and it has always been an integral part of my working practice, indeed of my daily existence, providing not just physical and mental refreshment but also creative stimulation. Having done some preliminary research on the physical, political and economic influences which have shaped an area, with the physical walking of a landscape, rural or urban, I come to know the whole environment. You could say, therefore, that each piece of my work contains a journey.
People often remark that my work is very varied but to me there is a complete continuity to it all, that continuity residing in my conceptual approach to the development of each piece and in the materials and tools I use. Paper is a much undervalued material yet it is versatile and expressive and far from being simply a substrate. I love the physical act of making it - as I also enjoy the physical process of printmaking.
Much of my most recent work employs 21st century digital media and, once again, paper comes up trumps, leading to a widening of the creative options.
Qualifications
1988-92 B.A. (Hons) Fine Art, Glasgow School of Art
At Glasgow School of Art I studied printmaking under Philip Reeves and papermaking under Jacki Parry.
Memberships
1993 - Elected professional member of the Society of Scottish Artists
2001-2004 - Elected President of the SSA
1994 - Elected professional member Visual Arts Scotland
1992 - Became a member of Glasgow Print Studio
Awards
2005 - Scottish Arts Council award for Professional Development
2005 - Award from The Birgit Skiold Trust towards working in Japan
2004 - Wasps/Bonhoga Residency, Shetland Isles, May 2004
2000 - Recipient of a major award for Individual Development from Scottish Arts Council to undertake a papermaking project, Mapping Scotland
1998 - Prizewinner, Visual Arts Scotland, Annual Exhibition
1994 - Prizewinner Smith Biennial
Solo Exhibitions
2008 - Sweden: Exhibition & exchange: Galleri Kretsen, Sodertalje (Selected)
2007 - West Moss-Side Environmental Centre, Stirling
2006 - Bonhoga Touring Exhibition, Shetland
2005 - Chambers Institute, Peebles
2003 - Royal Botanic Garden Edinburgh
2003 - The Park Gallery, Falkirk
2002 - Gracefield Arts Centre, Dumfries
2002 - An Tobar Gallery, Mull
2001 - Bonhoga Gallery, Shetland
1997 - Scottish Gallery, Edinburgh
1996 - Glasgow Print Studio, Gallery III
1996 - Highland Printmakers, Inverness
1993 - Buddhist Centre, Glasgow
1993 - Green Gallery, Aberfoyle
Selected Group Exhibitions (since 2000)
2007 - 'East-West', Beldam Gallery, Brunel University, selected paper artists from Europe and Korea
2007 - Society of Scottish Artists Annual Exhibition
2005 - Birnam Institute, jointly with Joyce Gunn Cairns
2005 - Pulp Fiction, The Line Gallery, Linlithgow
2004 - Hughson Gallery, Glasgow
2004 - Thuringen, Kunsthalle Arnstadt, Germany, selected
2004 - Bonhoga Gallery, Shetland, 10th Anniversary Exhibition
2003 - Berlin, selected contributor to Blue Hall – Marktplatz Europa
2003 - Stirling Smith Gallery
2002 - Park Gallery, Falkirk 2002 Royal Scottish Academy
2002 - Stenton Gallery
2001 - Brussels. Art for Europe
2001 - Michigan USA, Scottish Spirit
2001 - The Line Gallery
2001 - Frames Gallery, Perth
2000 - The Royal Scottish Academy Annual Exhibition
2000 - Aberdeen Artists Annual Exhibition
2000 - Grampian Hospitals Arts Trust, Aberdeen.Paper Pulp
2000 - Stroud House Gallery, Stroud. Paper, The Sequel, (selected)
Special Projects
2006 - Contributing author to new publication, 'Papermaking for Printmakers', (A & C Black)
2005 - Japan. Month-long residency at Awagami Paper Factory, Yamakawa
2004 - Hunterian Museum, joint workshop leader with Elspeth Lamb on a combined papermaking & woodblock printmaking project to coincide with a botanical exhibition, 'Historic Bloomers'
2003-2004 - Organiser and workshop leader, major education project involving Craigmillar schools at 2003-2004 Annual Exhibition, Society of Scottish Artists, Royal Scottish Academy Galleries, Edinburgh
2001 - Installation for Theatre Workshop. Also provision of an 'alternative' programme for school children visiting the production, 'The Moon Princess'
2000 - Invited speaker at Focus, a Society of Scottish Artists-organised conference professional practice
1998 - Berlin/Edinburgh Scottish/German artists' exchange and exhibitions
Recent Major Educational Projects
2007 - 'Riding Banners' project with Glasgow Print Studio to produce artwork with community groups for the banners for the State opening of the Scottish Parliament
2006 - 'New Editions' project for Glasgow Print Studio & North Lanarkshire Council introducing printmaking to primary schools
2006 - Hunterian Museum, Glasgow University. Combined paper & woodblock print workshops with Elspeth Lamb
2006 - Hunterian Summer Schools for Glasgow University
2005 - Turkey Red Project for Glasgow Print Studio & West Dumbarton primary schools producing artworks relating to the former dyeing industry of the area
Selected Education Projects (since 2005)
Most of my solo exhibitions are accompanied by a workshop programme.
2007 - Environmental projects for West Lothian Council
2007 - Glasgow University, International Students Support Unit - workshops
2006 - Forestry Commission - environmental workshops
2006 - Glasgow Print Studio, CPD workshops for teachers
2006 - Glasgow University, International Students Support Unit workshops
2006 - Streetlevel Photoworks Gallery, Glasgow. Papermaking workshops
2005 - National Museum of Scotland, The Big Draw
2005 - Hunterian Museum, adult workshop programme
2005 - Workshops, Tweeddale Museum & Gallery, Peebles
2005 - Tree in the Park, Forestry Commission, South Lanarkshire Council
2005 - Hunterian Museum and Art Gallery, Summer Schools
2005 - Papermaking workshops, Gracefield Arts Centre, Dumfries
2005 - St Fergus' Primary School, Paisley - environmental papermaking project
1995 onwards: Lead artist for Artlink Central on a wide variety of projects with various special needs groups ranging from those in prison, the elderly, mental health groups, the physically handicapped and special support units in schools. e.g. Involvement with training in the Sensory Curriculum for staff in Stirling schools. Lead visual artist on a multi-disciplinary project to help participants write, produce and perform a musical, Cornton Vale Prison.
Lead-artist Millennium Book Project. A hand-made book on the theme of communication from the primordial mark to the CD rom, exhibited in the Stirling Smith Art Gallery. Lead-artist on the Artlink Lipservice exhibition, producing a 'Sensory Environment with a group from the Whins Day Centre, Alloa. On exhibition at the Stirling Smith Art Gallery and Museum, the Talbot Rice Art Centre, to Projectability, Glasgow and Callander House, Falkirk.
The Critics…
3
29
2007
A seed produces roots, leaves. The plant grows and stretches towards the sky, flowers and is fertilised. Seed develops and falls, and the plant dies. The cycle is repeated again and again, the fragility of one contrasting with the durability of the many. The continuity of the pattern of life defying the tenderness of the individual.
The contrast of delicacy and endurance is expressed throughout Charmian Pollok's work, both in the softness and translucence of the papers she makes and in the found objects with which she combines them. Papers are made from plant and other fibres - from old trousers, themselves made from cotton, as used in Boundary - and combined with old slates, hinges, wood or natural elements such as bird's nests. The newness of the paper is contrasted with the age and weathering of the piece with which it is partnered.
And where the paper speaks alone, where there is no contrasting object, an image of native plant is employed to indicate the core of the cycle - a series of plants and papers grows to form pages from a book. The programme is incomplete, the potential huge and the scope for further development irresistible!
27
2001
Charmian Pollok questions boundaries and looks beyond the obvious in her work.
An abiding concern for the environment in which we live, and which we will bequeath
to those to come, colours her approach to subject matter and materials. Her interest
envelops the spectrum of land use from the industrial to the rural, with the resultant
artwork very specific to its origins.
Mapping and plotting a walk across a patch of land, Charmian considers and digests
what she sees and finds along the way. Images are created from these walks using
found objects of all forms and in many, many ways. Casting aside more traditional
limitations surrounding the fine arts, objects are recycled and reconstituted, filtered
through a creative imagination which transforms and transcends the original. Plants,
leaves, sheep's wool, rags, twigs, rusty nails and old metal; all will have a story to tell
about the place in which they were found. It is Charmian's skill and creativity which
transforms such a motley collection into works which are both suggestive and
challenging and which invite us to think about the land she has crossed and its history.
Her pieces do not recreate the route of her walk nor do they resemble individual
features or elements of the physical landscape across which she has passed. Rather,
a sense of 'place' and of time passing is engendered, using the bits and pieces she has
collected. Papers, made from assorted fibres, may have leaves, twigs, metal etc
incorporated whole or manipulated in relation one to the other. The artist employs
her imagination and vision, using skill and daring to combine objects with colours,
found pieces with artists materials, fine with applied arts to make pieces which speak
to us about places both now and in the past.
28
2001
Papermaking is a 2000 year old process and this continuous thread of history has
fascinated Charmian Pollok since her earliest experiments with the medium at
Glasgow School of Art. Always attracted to exploring the relationship between man
and the natural environment, this recent body of work has focused mainly on a series
of close explorations of two sites in central Scotland, Glen Finglas and Ravenscraig:
the one containing an ancient stretch of woodland, now owned by the Woodland
Trust, the other a site of more recent industrial archaeology. In common with land
artists such as Richard Long, whose work she admires, Pollok undertakes a series of
carefully plotted journeys across her chosen terrain, gathering plant and man-made
material as she goes. The scavenged plant and clothing fibres form the basis of the
paper pulp: larger artefacts such as old machinery parts can be used to create the
structure of a work, such as the large, old iron ring in Boundary. In this way works
have a literal connection with the places she explores, yet through what she describes
as her 'ultimate quest to make the perfect piece of paper' she rigorously transforms
her found materials into unexpected forms. So, for example, a piece from a series
entitled Recycled with its brilliant harmony of pinks, like boat sails in a Mediterranean
port, is in fact constructed from recycled pulp from an Inveresk paper mill and old
computer print outs, making reference to an area which was long a centre of
Scotland's papermaking industry. The unexpected is present elsewhere in the
deceptively solid looking tree trunks - which are silver birch paper casts from Glen
Finglas; or the free-hanging scraps of paper in Forest which have echoes of Tibetan
prayer flags.
There is a refreshing lack of sentimentality to Pollok's work which removes it from
the romanticism of rural craft. Her best pieces offer a complex reflection on the
relationship between man and his social as well as his natural environments.