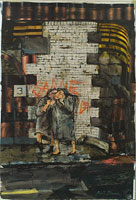 Collage, acrylic & pastel on paper | 108 x 72 cm
Kate Downie graduated in Fine Art at Gray's school of Art, Aberdeen and has been practising a combination of painting, drawing, printmaking and photography for over 20 years. She exhibits her work extensively in Europe and in the UK, and has held artists studio residencies both in Amsterdam and Paris. Over the years, Downie has established studios in places as diverse as a brewery, a maternity hospital, an oil rig and an island underneath the Forth Rail Bridge. Major influences are the work of Joan Eardley, Willemina Barnes-Graham and Anselm Keiffer. She has taught extensively both in art colleges and universities and has directed major public and community art projects since 1987. She is currently president of the Society of Scottish Artist, and has recently returned from a successful exhibition of new work, 'Les Routes des Travaux' in Corsica as part of a festival of Scottish culture. In 2005 the artist returns for a research post in Corsica, having been awarded a residency with the Foundation Lazaret D'Aspretto. . She is also researching images of 21st century Scotland, an investigation through large-scale drawing into the phenomena of new civil engineering and building projects in this country.
Downie's work appears in many public and corporate collections including the BBC; Adam & Co; Glasgow Gallery of Modern Art; Cleveland Art Gallery; Aberdeen Art Gallery; Rietveld Kunst Academie, Amsterdam; City of Edinburgh Council; HM The Queen; Kelvingrove Art Gallery, Glasgow. She is a regular contributor to BBC Scotland arts programmes on radio and television.
My work is both public and personal. Whilst the majority of my work is defined by geography or subject, I view myself as a conceptual expressionist. I draw in the public arena because I must; it is my way of exploring how the world works. I seek to establish a fragile counterbalance between function and emotion, and place myself in the midst of action as a still point in the flux. The new environmental work is both descriptive and romantic. What happens to those drawings, how they become transposed into ideas, perceptions, or merely a distillation of memories, is entirely my own affair. The fact that others enjoy my work as an artist is a vindication of the perceptivity of my observations.

*The Joke* is one of a series based around my interest in a particular interchange in the heart of Edinburgh. This place, sited under a railway bridge by Holyrood, acts as a kind of boundary between the Royal Palace (& now parliament) and an ordinary working class tenement area of this city. *The Joke* was made at a time when event or performance became a serious element in my work. As I was out on the edge of the pavement making this large collage, two cleaning women stopped to observe me on their return from an early morning shift. They gawked and laughed at the (to them) hilarity of my actions. We were 'characters' to each other, performers in the play of street life.

Around this time in the early 90s, the media was being bombarded with the new Glasgow Boys making angst-ridden, fatalistic views of the Scottish working class victim. As a woman, as an artist, I knew that our city populace were so much more robust than that, less of an easy cliche.

This work originally appeared in the 1992 Talbot Rice Touring Exhibition *The Figure in the City*, alongside work by Peter Howson, Henry Kondraki, Ken Currie, Stephen Campbell, Joyce Cairns and Fred Craik.

I am delighted that this work is to be included in the New Hall Art Collection.

Kate Downie, April 2005
New Hall Art Collection.