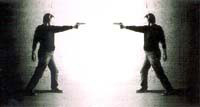 screenprint | 50 x 70 cm
Like Red Cocoon, The Quickening is part of Glasgow Print Studio's Habitat portfolio (see No 1). Greg Hilty gives a lucid account of the many elements in Borland's oeuvre in Christine Borland (1997) published to accompany her exhibition at Frac LR, Montpellier: her concern with process, the poetry of effect; her use of double images ('a single object is an image, but doubled it becomes an idea'). An initial response to this work might be that territory (or habitat) is being defended. But the realisation that a mirror-image is employed creates a wholly different set of criteria. The artist has used digital technology in the production of the work. Christine Borland lives in Glasgow; she was nominated for the Turner Prize in 1997.
New Hall Art Collection.