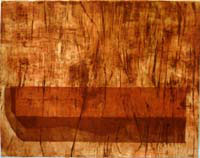 intaglio | 92.5 x 119 cm
Ganter's recent etchings have varied dramatically in size from small and intimate to large and public. Whatever their scale, her current prints are consistent in their ability to draw the viewer into an almost visionary, half-seen, half-imagined geomorphic space where seemingly substantial forms float in veils of colour across pictorial planes articulated by space and light. These are meditative works, atmospherically charged and very compelling.
Ganter teaches in both Edinburgh and Glasgow Schools of Art. The catalogue of her 1998 exhibition Meeting Places at Glasgow Print Studio is introduced by Elizabeth Cowling, of the University of Edinburgh. She will exhibit in May this year at the AIR Gallery in Soho, New York.
New Hall Art Collection.