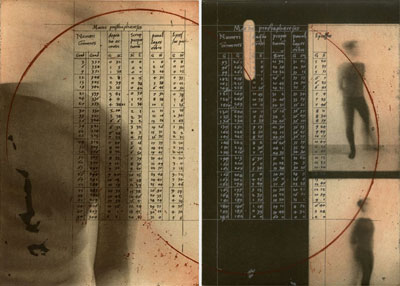 Artist's Statement
This suite of multiple plate etchings had its beginnings at the library of the University of British Columbia. When I opened a facsimile of the manuscript Opus Revolutionibus Caelestibus (1543) by Nicholaus Copernicus, I was immediately attracted to the penned Latin script, the hand drawn diagrams and the tables of celestial observations. As well, imperfections such as inkblots and the many corrections conveyed the presence of the writer in a personal way. My urge was to bring these ancient and exquisitely detailed pages to light in a new and different context.
For each print, I selected two pages from the text and reproduced them to size as photo-etchings. These I layered with photo-etchings of figures in motion made from photographs that I had taken of my teen-aged daughter. Images of bodies in motion in my work are, for me, a metaphor for change and transformation, be it physical, psychological, or intellectual.
The transition from childhood to adulthood can be likened to a Copernican paradigm shift. During this phase of intellectual development, a child's view of reality changes from one centred on self, family and immediate surroundings to one which encompasses much, much more. Furthermore, as an adolescent's view of the universe expands, an awareness of his or her place in it changes as well. This gradual change in perspective can be seen to parallel the shift in Western consciousness that occurred when Copernicus established that the sun, not the earth, was the centre of planetary motion.
Another element in this suite of prints was introduced by printing a third pair of plates into which circles or arcs had been etched. Copernicus believed that the sphere was the perfect form upon which the universe was based and that the planetary orbits were circular in nature.
The dual format of these prints is that of an open book. To further this association, I used the technique of chine collé whereby a second type of paper was introduced in the printing process. I selected a more delicate and warmly toned paper to replicate the texture and feel of the paper that might have been used on the original manuscript.
This body of work brings together a variety of influences in my life: my early studies in math and physics, the use of photography and printmaking in my artistic practice, my growing interest in philosophy and the development of western thought, and my experience as a parent. While modern technology and materials were used to make these etchings, they speak of an appreciation for the visual and tactile character of 'the written word' as society moves increasingly to electronic methods of documentation and communication. They reflect the past while acknowledging future generations.
Education
1994 - Master of Fine Arts, University of British Columbia
1970 - Bachelor of Science, University of Toronto
Solo & Two Artist Exhibitions
2007 - The Animal That Therefore I Am with Gerri York; Malaspina Printmakers Gallery; Van. BC
2004 - Copernican Notes, Glasgow Science Centre, Scotland; June-October
2004 - Copernican Notes, Edinburgh Printmakers Gallery in conjunction with the Edinburgh International Science Festival, Scotland; April-May
2003 - Elements of Grace, Glasgow Print Studio Gallery, Scotland.
2002 - Copernican Notes and Elements of Grace, Isaac Newton Institute for Mathematical Sciences, University of Cambridge, U.K.
2001 - Elements of Grace, Malaspina Print Gallery, Vancouver, B.C.
1996 - Beyond Plato's Cave, Pacific Light Impressions, Vancouver, B.C.
1981 - Installation and Prints by Catherine Stewart, Carnegie Centre Gallery, Van., B.C.
1978 - Catherine Stewart, Circle Art Gallery, Vancouver, B.C.
Selected Group Exhibitions
2009-10 - 7th British International Miniature Print Exhibition; touring UK
2009-11 - Monumental Idea in Miniature Book Project; Southern Graphics Council Conference: Global Implications; Columbia College, Chicago, Ill., USA; touring internationally
2009 - Okanagan Print Triennial, a national exhibition of prints; Vernon Public Art Gallery, BC
2008 - Edmonton Print International, Alberta
2008 - Footprint; Campbell River Art Gallery, B.C.
2008 - 5th International Biennial of Miniature Art, Czestochowa, touring Poland
2008 - The Aesthetics of Science, Open Studio Print Sales Gallery, Toronto, Ont.
2008,06,04,02 - Biennial International Miniature Print Exhibition; Vancouver, B.C.
2008 - Artspace National Juried Photography and Printmaking Exhibition, Richmond, VA, USA
2006-8 - 6th British International Miniature Print Exhibition; touring UK
2005-8 - REIDENTIFICATION: Trilateral Print Exhibition between Shin-Yokohama Printmakers Association, Malaspina Printmakers Society & Grafisch Atelier Utrecht;
2008 - Print Parallels, CityScape Gallery, N.Van. & Kayo Gallery, Salt Lake City, Utah
2007,05 - THINK SMALL 3, art6 gallery; Richmond, Virginia, USA
2007 - WORK: Original Postcards; Arrowsmith Gallery, Parksville, B.C.
2005-6 - 5th International Mini-print Biennal Cluj, Cluj-Napoca Art Museum, Romania
2006 - 30 x 30: New Directions in Printmaking; Burnaby Art Gallery, B.C.
2006 - Biennial International Miniature Print Exhibition II , III, IV; Dundarave Gallery and New Leaf Editions; Vancouver, B.C.
2005 - THINK SMALL 3, art6 gallery; Richmond, Virginia, USA
2004-5 - 3rd International Biennial of Miniature Art 'Czestochowa 2004'; Czestochowa, Warsaw, Myslowice and Kalisz, Poland.
2003-5 - 5th British International Miniature Print Exhibition, toured U.K.; 2003-5
2005 - BodyLines; Nanaimo Art Gallery, B.C.
2004 - Human Traffic: New Communities: Glasgow Print Studio Gallery III
2004 - Under Pressure, M P S Juried Exhibition, CityScape Gallery, North Vancouver
2004 - Quintessence (5 artists), Nanaimo Art Gallery, B.C.
2003 - Malaspina meets GEDOK, 7 artists, Ticket Gallery, Potsdam, Germany
2002 - Biennial International Miniature Print Exhibition II, Vancouver, B.C.
2002 - MPS / Yokohama artists, joint exhibition, SNAP Gallery, Edmonton, Alberta
2001 - Malaspina Printmakers, OM Gallery, Yokohama, Japan
2001 - Body Lines, Porvoon Taidehalli Museum, Finland
2000 - MPS 25TH Anniversary Exhibition, Ceperly House Gallery, Burnaby, B.C.
2000,1998 - small, the art of the miniature, Vancouver East Cultural Centre, B.C.
1999 - Apples and Oranges 3: Cut and Paste, collage in Vancouver, Atrium Public Gallery
1993 - MFA Graduate Show, University of B.C. Fine Arts Gallery, Vancouver, B.C.
1991 - Struggle: Local and Global, Western Front, Van.,B.C., an exhibition and readings from the fall issue of the Capilano Review featuring B.C. women writers and artists
1990 - Contemporary Prints, Burnaby Art Gallery, Burnaby, B.C.
1985-90 - Northwest Print Council, group exhibitions in Argentina, China, northwest USA and Alaska,
1988 - Photoperspectives '88, Presentation House Gallery, North Vancouver, B.C.
1988 - Medicine Hat Print Show, toured western Canada
1987,85,84,82,80 - Malaspina Printmakers Juried Exhibitions, Greater Vancouver, B.C.
1984 - Paper Fair '84, Robson Square Media Centre, Vancouver, B.C.
1984 - Pressing Matters, 6 artists, Surrey Art Gallery, B.C.
1982 - The British Columbia Art Collection Exhibit, Robson Square, Vancouver, B.C.
1980-81 - The 2nd Canadian Biennial of Prints and Drawings, toured Canada
1979-80 - B.C. Artists, toured B.C.
1979 - Space Forms Collaboratory, 2 artists, Open Space Gallery, Victoria, B.C. 1979
Teaching And Other Professional Involvement In The Arts
2001-9 - Instructor: courses and workshop; Intaglio & Photo-intaglio, Malaspina Print Studio, Van., B.C.
2007 - Instructor: Solarplate Workshop & guest speaker at CBKU Graphic Studio, Utrecht, Netherlands
2005-7 - Canadian coordinator, Trilateral Print Exhibition; Japan, Canada, Netherlands (65 artists)
2004-7 - Member of the Board of Directors, Chair of External Exhibitions, Malaspina Printmakers Soc.
2006 - Presenter, Print Cooperatives as Conduits for Cross-Cultural Exchange; Japan Studies
2006 - Association of Canada Conference; Thompson Rivers University, Kamloops, B.C.; October 2006
2006 - Instructor: Solarplate Workshop; Malaspina Studio; September 2006
2006 - Guest Print Artist, Open Studio, Toronto, Ontario; May, 2006
2006 - Presenter, Building Diversity Through Cross-Cultural Initiatives; Southern Graphics Council Conference, Genetic ImPrint; University of Wisconsin, Madison
2001-7 - Instructor: Intaglio & Photo-intaglio, Malaspina Print Studio, Vancouver, B.C.
2005 - Artist Residency: Shin-Yokohama Printmakers Association; Print House OM, Japan; fall 2005
2004 - Guest speaker; Career Connections, UBC Continuing Education; Robson Street Campus, Van.
2004 - Artist Residency: Edinburgh Printmakers; April 2004
'Interpreting the physical universe', slide lecture on science in art: Edinburgh Printmakers
2003-4 - Co-curator: Quintessence, Nanaimo Art Gallery, B.C
2000-03 - Member of Board of Directors: Malaspina Printmakers Education Society (registered charity)
1979-81 - Member of Board of Directors, Malaspina Printmakers Society
Awards
2009 - 7th British International Mini Print Exhibition: Printmakers Council Chairman's Award
2008 - 5th International Biennial of Miniature Art (all media), Czestochowa, Poland; third prize
2006 - New Leaf Editions Biennial International Miniprint Exhibition IV; Opus Award
2004 - New Leaf Editions Biennial International Miniprint Exhibition III, honourable mention
2003 - 5th British International Miniature Print Exhibition; Off-Centre Gallery Purchase Prize
2002 - Canada Council, travel grant for solo exhibition, Newton Institute, University of Cambridge
2002 - New Leaf Editions Biennial International Miniprint Exhibition II, honourable mention
1998 - small, the art of the miniature (an open exhibition), second place
1987 - Experimental Print Grant, Malaspina Printmakers Society
1984 - Paper Fair '84, award for innovation
1982 - Malaspina Printmakers Juried Show, 2 purchase awards
1980 - Canada Council, short term grant
Collections
Burnaby Art Gallery, B.C., Canada
Edinburgh Printmakers Archive, Scotland
Isaac Newton Institute for Mathematical Sciences, University of Cambridge, UK
Malaspina Printmakers Archive, Vancouver, B.C.
New Hall Art Collection, University of Cambridge, U.K.
Off-Centre Gallery, Bristol, U.K.
Open Studio Archive, Toronto, Ontario
SaltGrass Printmakers Archive, Salt Lake City, Utah
Simon Fraser University Gallery, Burnaby, B.C., Canada
Thompson Rivers University Art Collection, Kamloops, B.C.
Toronto Dominion Bank Collection, Canada
Private collections throughout Canada, USA, Japan, New Zealand and the UK
Selected Bibliography
2006 - Stewart, Catherine: "Trilateral Exhibition and Artist Exchange: Canadian phase wraps up". CHOP. Vol.31, No.3 - Nov. 2006, pages
2008 - Beer, Ruth: "Science as Muse: Interpreting the Natural World". Chop. Volume 33, No.1-spring 2008, pages 26-33. (Exhibition review)
2003-4 - Isaac Newton Institute for Mathematical Sciences Annual Report 2002-2003.cover
2002 - Hawkins, Julia. "Elements of Grace and Copernican Notes: An exhibition of work by Canadian artist Catherine M. Stewart". Plus Magazine, Millennium Mathematics Project, University of Cambridge, UK.
2002 - Armitage, Gillian. "Catherine M. Stewart exhibits in Cambridge, Elements of Grace and Copernican Notes". CHOP. Volume 15, No.4 - November 2002. cover, pages 1-4
2002 - Bourgeois, Huguette. "De Vancouver a Cambridge: trajectoire d'une artiste vancouveroise". La Source. (Vancouver, B.C.) Vol. 4 No.16. 23 aout 2002. page 5