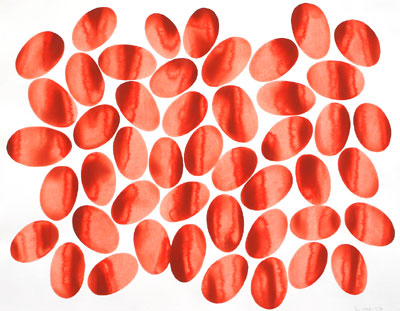 TWENTY
08 November - 03 December 2006
Introduction
The Hughson Gallery first opened its doors in October 1986 with an
exhibition of sculpture by Cliff Bowen, accompanied by prints by Jacki
Parry and drawings by Jack Knox. It was strong and exciting, and
compensated for the difficulties that Mark's four year battle with Coxsackie B encephalomyelitis were posing for us all. When City of Culture came around in 1990 we were back on an even keel, and the gallery contributed exhibitions and a conference entitled *Burns, Beuys and Beyond*, with George Wyllie, Richard Demarco and author Kenneth Whyte. Two retrospectives at the Lillie Gallery in Milngavie followed: in 1991 with Margot Sandeman, and in 1993 with Philip Reeves. In 1992, Merilyn Smith's *Cutty Stool* for St Giles in Edinburgh brought religion and the state together in a single artwork. By the millennium, the gallery had assembled an excellent collection of prints by women artists, both Scottish and working in Scotland, for the New Hall (Cambridge) Art Collection.
These various extra-mural activities have fed into the exhibition programme,
and now is the moment to thank artists and patrons alike for making it all possible. I must also thank Mark, Richard and Philip for their sterling efforts to keep me up to date with technology It's been hard work - and fun - and I thank you all! *TWENTY*, therefore, is a celebratory exhibition which mixes artists from the past two decades with those who are showing here for the first time. There is nothing retrospective about it - most of the work is very recent, and I hope that it will give you much pleasure. We look forward to seeing you!
JH
Catalogue
Philip Reeves - *Blue Steel (intaglio print)*
Philip Reeves - *Plate '06 (intaglio print)*
Philip Reeves - *Twin Stacks (gouache, ink, collage)*
Elspeth Lamb - *Fleurs du Mal (Hematite) (CTP col.trial proof)*
Elspeth Lamb - *Fleurs du Mal (Cinnabar) (CTP col.trial proof)*
Elspeth Lamb - *Cosmic Lake (woodcut with pochoir print)*
Dorothy Dick - *Reclining Figure (elm)*
Dorothy Dick - *Mask (blond wood)*
Dorothy Dick - *Walking Figure (iroko)*
Charles Mitchell - *Where the Bee Sucks (watercolour)*
Charles Mitchell - *Come unto these Yellow Sands (watercolour)*
Charles Mitchell - *After Guido Reni (pastel on board)*
Margot Sandeman - *High Corrie the wedge of pink grass in May, View from the Bothy 2006 (oil)*
Margot Sandeman - *The Carlin Moth for Robert McLellan 2005 (oil)*
Ruth Beardsworth - *Correspondence A (mixed media drawing)*
Ruth Beardsworth - *The Black Isle Suite VIII (relief print)*
Ruth Beardsworth - *Correspondence C (mixed media drawing)*
Ruth Beardsworth - *The Black Isle Suite IX (relief print)*
Doug Cocker - *From Zoo Jazz suite, No 1*
Doug Cocker - *From Zoo Jazz suite, No 2*
Jo Ganter - *House 1 (inkjet print)*
Jo Ganter - *House 2 (inkjet print)*
Rachael Bucknill - *Empty Words (porcelain)*
Ian Hamilton Finlay - *Joseph Bara (with Gary Hincks)*
Ian Hamilton Finlay - *Grove (with Gary Hincks, after William Stukely)*
Joy Bain - *Bubblelicious (silkscreen)*
Regina Kochs - *Crowded (watercolour)*
Brian Blow - *Cut 06 (2006, collage)*
Brian Blow - *Cut 09 (2006, collage)*
Brian Blow - *Cut 02 (2006, collage)*
Matthew Tyson - *Elements (enamel paint on MDF)*
Matthew Tyson - *Elements (enamel paint on MDF)*
Matthew Tyson - *Cascade Series, Lips (enamel paint on MDF)*
Matthew Tyson - *Cascade Series, Chocolate (enamel paint on MDF)
Artists in this exhibition