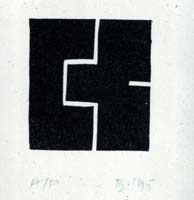 Biography
Brian Blow was born in London and trained at the Sir John Cass School of Art in the City of London, at St. Martins School of Art and at the Hornsey School of Art where he studied etching under Norman Janes. His work is 'a personal exploration of form in space, a voyage of discovery in the visible world - not just the natural world of trees, rocks, the human figure, but the city and industrial landscape wth its remains and fragments of man-made objects and structures. Although primarily non-representational, my pieces frequently contain echoes of these things. They are rarely based on intellectual concepts, rather they are my responses to visual experience, organised and structured within parameters dictated by the characteristics and special qualities of the materials used.'
His creativity was fuelled by the many exhibitions of work by early twentieth century masters shown in London in the post-war years. He became addicted to modern jazz. National boundaries seemed irrelevant in both the visual arts and music. From the late fifties to early sixties he exhibited with several London galleries and with the Finsbury Art Group - a collective of painters associated with the art critic Eric Newton. He continued with commissions, but abandoned working with exhibitions in mind. His painting developed into low relief forms on the surface of the canvas; he moved into sculpture and he began to explore photography, spurred on by the opening of the Photographers' Gallery in London. Soulages, Tapies, Viera da Silva and especially Chillida were important influences, but also and primarily Braque, Matisse and Morandi. His discovery of the Livre d'Artiste in Paris has born fruit in his Iron Chords, produced with Jonathan Stephenson at the Rocket Press in 1996.
Blow lives in Kent and Aberdeenshire, not far from the Scottish Sculpture Workshop at Lumsden, where he has worked and exhibited (1995). He had a solo show with Rocket Gallery, London in 1997 and with the Hughson Gallery in 1998. His work is held in private and public collections in USA, Canada and Europe, including the Museum of Art, Rhode Island, USA, and the Tate Gallery, the William Scott Foundation and the Victoria and Albert Museum, London.
The Critics…
1
1
1997
Chillida also comes to mind at London's Rocket Gallery, whose show of recent work by Brian Blow is another with musical connections. Blow, an accomplished jazz musician, makes strong, simple sculptures and elegantly minimal prints which have a restrained yet powerful presence. This is his first show in London for over 30 years. I hope we don't have to wait so long for the next one.