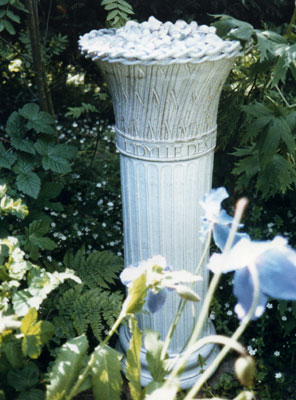 Ian HAMILTON FINLAY
Inside The Garden At Little Sparta
22 August - 30 September 2005
(Internet)
Introduction
Ian Hamilton Finlay's by now world-famous garden at Stonypath near Dunsyre in Lanarkshire has developed its present richness and complexity over a period of twenty years. In 1966 it was an abandoned hillside croft, consisting of a stone cottage, outbuildings and some four acres of land. As Yves Abrioux comments in his book (Ian Hamilton Finlay, *A Visual Primer*, pub. Reaktion Press 1985): 'One of the buildings was turned into a gallery showing the work of Finlay and his collaborators. This subsequently became the Garden Temple. In 1968, Stonypath was a desolate spot, with none of the vegetation which is now so well established. The ponds did not exist. There was just one old tree in front of the cottage. This is still standing, in a corner of the garden.' This series of photographs was first shown in Glasgow in 1988, the year of its Garden Festival, to friends, acquaintances and others who had not had the opportunity to visit the garden at Little Sparta. It is primarily a tribute to Ian and Sue Finlay.
The text and notes are those of the original exhibition, shown for the first time in Glasgow in 1988, and subsequently in London and Sutherland. Text and photography are by Joan Hughson.
Works by Ian Hamilton Finlay in collaboration with Maxwell Allan, John Andrew, Keith Bailey, David Ballantyne, Peter Grant, Richard Grasby, David Harding, Michael Harvey, Douglas Hogg, Bill Palmer, Nicholas Sloan, Alexander Stoddart, George L. Thomson.
Artists in this exhibition