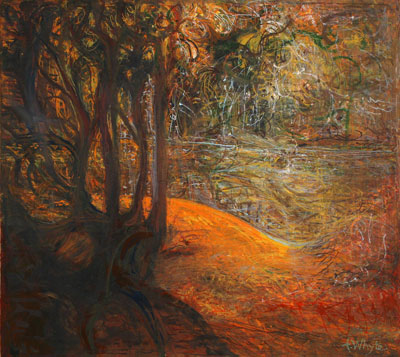 LANDSCAPE into art
16 April - 29 April 2007
Introduction
April's blue heralds the start of the outdoor season in our household, where a camper van and bicycles have for many years been our A-list accessories. The art of landscape has long fascinated me, encouraged no doubt by early exposure to Courbet and especially Corot in our Art Gallery at Kelvingrove, and in recent years by increasing familiarity with Margot Sandeman's wonderful and original art, and Edna Whyte's extreme use of pencil.
Placing the artists in this exhibition on the European map would take us to High Corrie on the eastern edge of the isle of Arran in the Firthof Clyde; to Cullipool on the island of Luing, on the Atlantic seaboard; to Cromarty on the edge of the North Sea where Ruth Beardsworth currently lives and works; to the craggy peaks of the Drome in the south of France, where Matthew Tyson, having escaped from London, now lives and works; and to the north of Jutland, in Denmark, where Mary Christiansen has created a home and studio from a church, in a village of a thousand inhabitants.
Our environment is our inspiration ... and with this invitation I should like to draw your attention to a recent and exceptional exhibition by Doug Cocker, presented late last year by Glasgow School of Art. Titled Nouns of Europe, it reflects his experiences in the North Sea/Baltic cities of Rotterdam, Hamburg and Copenhagen - and marks a new departure for his extraordinary sculpture.
JH
Catalogue
Ruth Beardsworth - *Field with yellow sky (acrylic, collage)*
Ruth Beardsworth - *The Rainmaker (acrylic, 2001)*
Ruth Beardsworth - *Dark Forest (acrylic, collage)*
Mary Christiansen - *Kildelandscab 1 (unique multiplate etching, 2005)*
Mary Christiansen - *Kildelandscab 2 (unique multiplate etching, 2005)*
Mary Christiansen - *Kildelandscab 3 (unique multiplate etching, 2005)*
Mary Christiansen - *Kildelandscab 4 (unique multiplate etching, 2005)*
Margot Sandeman - *Bathers I (oil, canvas 1988)*
Margot Sandeman - *Bathers II (oil, canvas 1988)*
Margot Sandeman - *Landscape with two figures (pen, crayon 1990)*
Margot Sandeman - *Study for The White Water 1 (pen, crayon 1991)*
Margot Sandeman - *Arran landscape (mist) (pen, crayon 1991)*
Margot Sandeman - *Study for The White Water 2 (pen, crayon 1991)*
Matthew Tyson - *Kisokaido (after Hiroshige) (enamel paint on MDF 2006)*
Matthew Tyson - *Mouth, Graphite and Cosmic (polished stone on wood, 2006)*
Edna Whyte - *Land of the red deer (gouache 2007)*
Edna Whyte - *Equinox (gouache 2006)*
Edna Whyte - *High tide, Cuan (pen,pencil gouache 2006)*
Edna Whyte - *The Grey Dog (bet. Lunga and Scarba) (pen, gouache 2006)*
Edna Whyte - *Crinan old harbour (pen, pencil,gouache 2006)*
Edna Whyte - *The Anchorage (Cullipool) (pen, pencil,gouache 2006)*
Artists in this exhibition