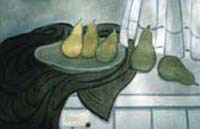 Margot SANDEMAN
Still Lives
26 July - 23 August 2003
Introduction
Margot Sandeman's early artistic inheritance was both rich and diverse. Her mother, Muriel Boyd(1888-1981), was an embroiderer of international reputation who trained at Glasgow School of Art under Jessie Newbery. Her father was Archibald Sandeman(1887-1941), a self-taught watercolourist whose Scottish landscapes were exhibited in London (Walker Gallery, New Bond Street) and Liverpool as well as in Glasgow (Bennett Gallery). The Sandeman home was Lochend Farm, the oldest house in Bearsden, on the north west edge of Glasgow, where the ideals of William Morris held sway in as much as art was understood to be an integral part of everyday life. The large and sumptuous garden was the perfect playground and nursery to a burgeoning sensibility. Jessie Newbery's classes focussed on the drawing of flowers, and Muriel Boyd's skill in their interpretation is everywhere evident in her work.
Sandeman was born in 1922, and had just begun her own training at Glasgow School of Art when war broke out. During the war years Glasgow was home to Polish immigrant artists such as Jankel Adler and Josef Herman. But Joan Eardley also came from London to train in Glasgow and she and Sandeman forged a friendship at art school which lasted until Eardley's untimely death in 1963. Ian Hamilton Finlay was a contemporary, and years later he called on Sandeman's draughtsmanship to iillustrate his periodical Poor. Old. Tired. Horse. (1962-1968). During the seventies Sandeman collaborated with Ian Hamilton Finlay on a series of still life paintings which carry texts selected by him (see cat. nos 12 and 19).
Hugh Adam Crawford RSA (1898-1982) was Head of Drawing and Painting at Glasgow School of Art during those uneasy war years. He recognised two outstanding talents in Eardley and Sandeman, whose names continued to be linked by art critics in exhibition reviews throughout the fifties. But in conversation many years later ( see catalogue, HAC, Glasgow Art Club, 1971) with the artist and then art critic of the Scotsman, Emilio Coia (1911-1997), Crawford declared 'Margot is much the better artist, her work has an inner structure, which is not an optical thing.' And Eardley herself, in one of many letters written during her months travelling on a scholarship in France and Italy, spoke of a sense of 'completeness' in Sandeman's work which made her own painting appear 'journalistic'. Sandeman and Eardley shared many painting hours together, and endlessly discussed subject matter and technique, but Eardley's 'muscle and staying power' (Crawford) set a pace which was perhaps difficult to match, and Sandeman arguably began to realise her own very different artistic temperament after Joan's death, and when her two young sons were less demanding of her energies.
Sandeman's unique qualities have long been recognised by another of her art school contemporaries, Cordelia Oliver, for many years the Guardian's Scottish art critic She wrote in 1983 (catalogue, Richard Demarco Gallery) of her 'singular quality, far removed from mere 'stylish-ness' - which is to say that her style is all her own, just as Blake's is inseparable from Blake or Morandi's from Morandi. These two great artists come to mind in this respect not because one sees any specific physical resemblance between Sandeman's work and theirs but because one has always sensed in her something of the same deceptively gentle intransigence in resisting fashionable influences, and the same spiritual courage in going straight for the root of the matter.'
The exploration of stil life which Sandeman began in the early nineteen seventies took a new direction with the series painted in collaboration with Ian Hamilton Finlay during the eighties. The works in this exhibition are from the nineties, and have a freshness and bravura which combine years of accumulated experience with the power and energy of an exceptional talent finding new expression.
JH
Artists in this exhibition