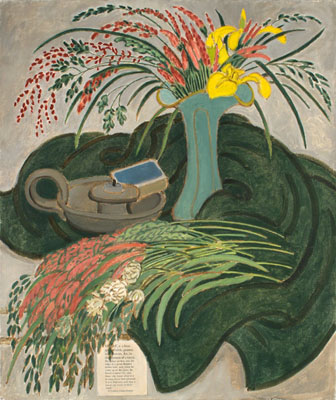 Margot SANDEMAN with Ian HAMILTON FINLAY
Paintings 1986-1988
27 June - 08 July 2011
(Internet)
Introduction
Margot Sandeman(1922-2009) and Ian Hamilton Finlay (1925-2006) were fellow-students at Glasgow School of Art during the early years of the Second World War. During the 1960s their first collaboration focussed on Poor.Old.Tired.Horse, Finlay's poetry periodical, for which Sandeman produced line drawings (1965). She subsequently illustrated several publications from his Wild Hawthorn Press, including Fishing News News, Peterhead Fragments, Rhymes for Lemons and other works. This in turn led to a greater emphasis on line in her paintings, and her linear style began to emerge, along with a pared-down painted surface.
Sandeman's art took a new direction in the early 1980s when she turned from landscape painting (in both acrylic and oil), and from a pre-occupation with poetry in the context of landscape works, to focus on still life painting. Working from her bothy at High Corrie on the east side of the island of Arran, she produced a series of still life paintings using simple objects - jugs, candles, shells - and varying formats. These works were the genesis of future explorations of the still life genre, and they inspired Ian Hamilton Finlay's proposal for a suite of collaborative works based on texts selected by him to collectively represent a vision of the pastoral. The texts were later published as A Concise Classical Dictionary (Wild Hawthorn Press 1988). Quotations from a wide range of authors are preceeded by 'dictionary definitions' which are characteristically enigmatic, and occasionally explicitly described as 'emblems'.
Over three years, from 1986 until 1988, Sandeman worked on this collaboration, producing a total of forty four paintings. She had been supplied with eight copies of each of the eleven printed texts, and only one instruction, namely that the weave of Sackcloth should be loose enough to allow light, resembling starlight, to filter through! The eleven titles are Redcurrant, Pear, Nut, Olive, Honey, Jug, Sackcloth, Twine, Sheaf, Patch and Net. Superficially these are suggestive of a cottage garden, or even of the domestic aspects of the garden at Little Sparta. However the texts, ranging as they do from poets John Clare and Wallace Stevens, to philosophers Plotinus and Wittgenstein, to Hawkins' Partheneia Sacra and W Cobbett's Cottage Economy, indicate typically wider concerns. The challenge for Sandeman was to marry visual imagery with a general sense of the meaning of the texts; and to successfully incorporate the text itself into her overall design. Finlay's ultimate aim was to create an exhibition which featured texts, paintings, and artefacts, but this was never realised. Within the series of forty four paintings are some of Sandeman's most beautiful still life works.
JH
Artists in this exhibition