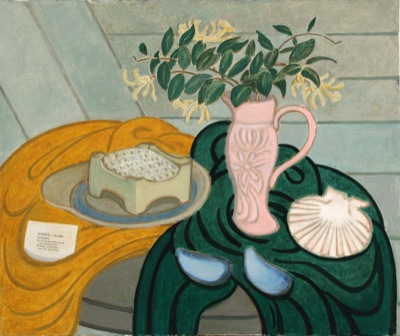 Archibald SANDEMAN, Muriel BOYD SANDEMAN and Margot SANDEMAN
At Home in Bearsden and Corrie
18 January - 16 March 2011
(Lillie Art Gallery)
Introduction
The eighteenth century Lochend Farmhouse is one of the oldest houses in Bearsden, and for the 74 years from 1918 until 1992 it was in the hands of the Sandeman family. Bought by the artists Muriel Boyd Sandeman and her husband Archibald Sandeman in 1918, the house was extended during the 1920s by architect William Craig Boyd. A large and varied garden was created from the land around the Farmhouse by Archibald, and Muriel's work on the interiors reflected the thinking of William Morris and the Arts and Crafts movement.
Muriel Boyd was a highly successful embroiderer who trained at Glasgow School of Art with Jessie Newbery and her successor Ann Macbeth. Her work was illustrated in the Studio magazine (c.1910) and was exhibited in Europe. She taught needlework in Glasgow schools until her marriage in 1915. Archibald trained in chemistry and worked with the family firm, Sandeman Brothers Ltd (est 1853) in Bilsland Drive, Maryhill. The firm specialised in oils, varnishes, soaps and lubricants. Because of his wife's commitment to her art, he taught himself to paint in watercolour, and during the 1930s he exhibited with the Bennett Gallery in Glasgow and with the Walker Gallery in London. The couple travelled annually to Skye to paint. Their summer holidays with their two children, Margot and Sandy, were taken in Corrie on the east coast of the island of Arran.
Margot Sandeman trained at Glasgow School of Art 1939-1942 in the Painting and Drawing Department led by Hugh Adam Crawford. She was a contemporary and friend of both Joan Eardley and Ian Hamilton Finlay. Sandeman and Eardley made frequent painting trips to Corrie, where they rented the small, two-roomed house known as the Tabernacle. Sandeman's art, with its roots in her early experience of the garden at Lochend Farmhouse, became focussed on the landscapes in and around Corrie and High Corrie.
The exhibition explores the inspiration of place in the work of the three artists, and the connections between them and their work in different media. It looks at differing approaches to painting adopted by Joan Eardley and Margot Sandeman, and suggests a possible role for Ian Hamilton Finlay in the ultimate direction taken by Sandeman's art.
The exhibition is curated by Joan Hughson, in association with the Lillie Art Gallery.
LILLIE ART GALLERY
Station Road
Milngavie
G62 8BZ
Tel: 0141 578 8847
Open Tues – Sat 10.00 – 13.00 and 14.00 – 17.00
Catalogue
A fully illustrated catalogue (40pp) accompanies the exhibition, price £8.50 (p&p, £3.00).
Catalogue and text by Joan Hughson
Catalogue design by Bob Murray.
Artists in this exhibition