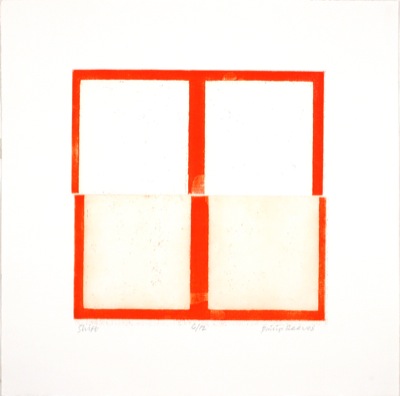 Philip REEVES
Prints 2006 - 2009
01 December - 31 December 2009
Introduction
Philip Reeves was born in Cheltenham in 1931. He trained at Cheltenham School of Art (1947–1949) and at the Royal College of Art (1951–1954).
In 1954 he was appointed assistant lecturer in etching to the then department of Commercial Art at Glasgow School of Art. When he retired in 1991 as Head of Printmaking (from 1970) at GSA, his department had long since expanded to include lithography and silkscreen, and had become part of the Fine Art department. By 1991 Scotland had four major print studios, in Edinburgh, Glasgow, Aberdeen and Dundee. Reeves' support for these developing studios (particularly in Edinburgh and Glasgow), which cater for the needs of graduate students and professional printmakers alike, was unstinting and has continued throughout his retirement. He was elected President of the Royal Scottish Society of Painters in Watercolour in 1998. The exhibition Philip Reeves at 70 (2001) was organised by the Hunterian Art Gallery in Glasgow in tandem with the Talbot Rice Gallery, Edinburgh, and was shown also in Aberdeen (Peacock Printmakers) and London (The Fine Art Society and Bankside Gallery). Throughout the past decade, Reeves has exhibited regularly with Compass Gallery and Cyril Gerber Fine Art in Glasgow, and with Open Eye Gallery in Edinburgh.
Reeves has said of his work 'I suppose from the start I was interested in the object and the place' (1). His brevity is endearing, but it belies an acute, experimental spirit, which has shown no sign of diminishing with age. In recent years he has continued to print from found metal objects, following on from his earlier series of Fragments.
These intaglio prints connect with that everyday urban reality which has been so well exploited by Boyle Family, amongst others. But Reeves frequently uses pieces of found metal to conjure up other realities. In Crypt, for example, he prints from a single piece of metal to suggest the descent from the nave to the crypt of an ecclesiastical building – drawing as he does on memories of a visit to a Yorkshire abbey. In The Drop-Gate John Sell Cotman's watercolour of the same title (2) is invoked. Reeves juggles with a found piece of tin to re-work the wooden gate - in effect a cattle barrier - across Cotman's stream. Belt is printed from a strip of metal found in one of Glasgow's many residents' gardens – fallen from a tree-trunk, it has been stretched out and given a new identity. The relief effects which are possible on paper using the intaglio method are well demonstrated in Blue Steel, where the ink is caught in the edges of the metal to produce a richness and depth akin to embossing.
Metamorphoses of a different kind can be found in the etching Shift and the aquatint Box, which are both ultimately derived from packaging. Shift was made using two plates, and was based on a cardboard packing case, taped and labelled, in a Danish print studio where Reeves along with fellow-artist Adrian Wisniewski was artist-in-residence. Box has its source in a small pack of prescription pills which was noticed for its elegant economy of design. Again two plates were used, the first being blank; here also small but deft elements of collage - normally the province of his paintings - are deployed.
Some of Reeves' earliest landscapes were inspired by visits to the Scottish coast of Caithness, and Northern Coastline marks a return to this territory.
Its grid of horizontal lines represents the rock strata of the cliffs which inspired the earlier Caithness Shore, and its vertical elements recall the frequent rock-stacks which punctuate Scotland's north sea coasts (eg Duncansby, Hoy, Stoer). His landscape becomes ever more abstract with the passing of the years, and possibly nowhere more so than in the etching Green Piece, where empty space accompanies a dense green, which fades with each successive printing of the plate. Reeves uses the architect's drawing as the starting point for his essay on the numerous viaducts which connect Denmark to Sweden and to the many islands between. In Viaduct: elevation he has reached a near-perfect fusion of reality and representation. Again, small touches of collage are introduced, in this case to create a context. Even that most temperamental (to British eyes) of landscape attributes, the weather, is subjected to his rational – and playful – approach. For Occluded Front he has used a piece of metal cut in a curve and printed yellow to symbolise our sun – and the rest is, of course, a familiar daily mantra.
JH
(1) see Philip Reeves at 70 – with a checklist of the Prints 1952 – 2001 (pub. Hunterian Art Gallery and Talbot Rice Gallery, 2001)
(2) John Sell Cotman, The Drop-Gate, Duncombe Park (1806), The British Museum
Catalogue
Hexagonal Fragment (intaglio – found metal, edn.7, 24.5 x 25.5 cm)
The Drop-Gate (with acknowledgment to John Sell Cotman) (intaglio – found metal, edn.6, 35.5 x 54 cm)
Crypt (intaglio – found metal, edn. 10, 51 x 67 cm)
Shutter (aquatint, edn. 10, 69 x 51 cm)
Belt (intaglio – found metal, edn. 8, 26 x 71 cm)
Embankment (aquatint, edn 8, 67 x 50 cm)
Shift (etching, edn. 12, 72 x 72 cm)
Blue Steel (intaglio – found metal, edn. 10, 42 x 50 cm)
Green Piece (etching, edn. 10, 67.5 x 58 cm)
Viaduct – elevation (etching and collage, edn. 9, 60 x 74 cm)
Occluded Front (etching, edn. 5, 58 x 66cm)
Plate '06 (intaglio – found metal, edn. 6, 74.5 x 56 cm)
Northern Coastline (etching and collage, edn 5 , 54 x 74 cm)
Box (aquatint and collage, edn. 7, 38.5 x 85 cm)
Measurements are paper sizes.
Prices unframed are from £500 - £800
Artists in this exhibition