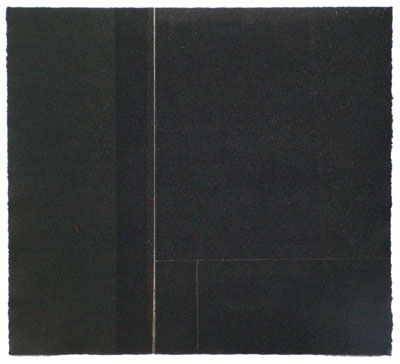 Mary CHRISTIANSEN
Shaped by Light (new prints)
05 November - 23 November 2008
Artist's Statement
Living in north Jutland, I have become fascinated by the clarity and drama of natural light. The land is flat, monotonic, and unremarkable even, but the quality of the light is often deeply evocative. It plays across the land, surfaces and interiors, displaying sublime hues, which frequently cause me to pause in order to appreciate them.
In the early morning, light flickers across surfaces, appearing, absorbing and reflecting, then vanishing. On overcast days, shadows take on a deeper sometimes somber cast. At night, I am moved by the luminosity remaining just before dark sets in. I love these nuances. I never get bored of looking, observing, or attempting to capture a hint of the deeper realities I choose to imagine.
For me light and shadow play is very emotive. It suggests much more than it's physical characteristics. For me it has become a perfect source and catalyst for conveying the contemplative vision. The idea that art has the ability to challenge one's pre-conceived understanding of the world inspires my activity as an artist. It provides impetus and gives value to the activity of working daily.
In these new prints, I am exploring the emotive qualities of light and variety in shadow hues. Much of the work incorporates a stark juxtaposition of light and dark elements using a reduced palette. I have also articulated the work using the medium of etching because it offers me particular possibilities. With it I can be reductive yet expressive, explore relationships within the boundaries of the visual plane, suggest feelings of movement or stasis, all the while allowing the natural tactile qualities of the print form, to quietly, suggestively speak.
Biographical
Mary Christiansen was born in Edinburgh in 1974. She studied at Edinburgh college of Art and The University of Edinburgh between 1993-2000 gaining her MA (Hons)Fine Art and MFA Printmaking degrees. Throughout her studies Mary specialised in Printmaking working under the guidance of Elspeth Lamb.
Following graduation, Mary took up several residencies and fellowships. In 2001, she was awarded a year long research Scholarship by the Anglo-Danish Society based in London. For this she received funding to study at an institution of her choice in Denmark. She chose to attend Det Jyske Kunstakademi (The Jutland Academy of Fine Arts) in Århus, where she spent one academic year.
After a period back in Scotland, Mary returned to Denmark in 2005. In 2006 she established her own independent print studio following the renovation of a former church building in the Vendsyssel region of north Jutland. This is where she currently lives and works, combining teaching with her own practice in the studio.
This is her first solo show since 2005
Catalogue
Stonemist (multi-plate etching, edn. 8)
Nightwater (multi-plate etching, edn. 6)
Himmerland (multi-plate etching, edn. 6)
Tired Light (multi-plate etching, edn. 8)
Oblique (multi-plate etching, unique print)
Tilt (unique, multi-plate etching)
Untitled (unique, multi-plate etching)
Untitled (unique, multi-plate etching)
Untitled (unique, multi-plate etching)
Umbra (unique, multi-plate etching)
Untitled (unique, multi-plate etching)
Untitled (unique, multi-plate etching)
Untitled (unique, multi-plate etching)
Untitled (unique, multi-plate etching)
Untitled (unique, multi-plate etching)
Untitled (unique, multi-plate etching)
Untitled (unique, multi-plate etching)
Untitled (unique, multi-plate etching)
Untitled (unique, multi-plate etching)
Untitled (etching)
Artists in this exhibition