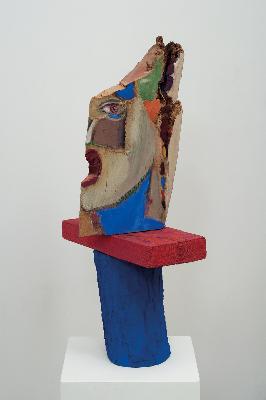 Lys HANSEN
Across the Divide
29 April - 25 May 2012
(Murray Edwards College, University of Cambridge)
Details
Open daily: 10am – 6pm.
Private view: Saturday 28 April, 1 – 3pm.
Introduction
Lys Hansen is a distinguished Scottish artist who has exhibited widely in the UK and in Europe. A prolific painter, she is a flamboyant colourist and expressionist, whose work marks a concern for the universal human condition and the family.
Hansen was born in Falkirk of part-Danish parentage. She trained at Edinburgh College of Art and the University of Edinburgh, and is a former President of the Society of Scottish Artists. She has worked regularly in Berlin since 1985, and in Denmark.
She has recently donated a major work, *Stagefright*, to the New Hall Art Collection; it hangs on the central walkway of Murray Edwards College. The exhibition includes a number of large and challenging canvases, cabinet paintings from France and three-dimensional, painted wood pieces which were conceived specially for this exhibition.
Across the Divide - Lys Hansen will talk about her work on Monday 30 April at 5.30pm, Murray Edwards College. She will discuss her experiences in Berlin, and the impact of change on the city and on her art.
*Passionate Paint, the Art of Lys Hansen* edited Giles Sutherland (Mainstream 1998) is available from the exhibition.
*Behind the Lines*, her collected Berlin drawings, is in preparation.
Artists in this exhibition