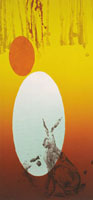 Elspeth LAMB
Nagasawa Cantrips
08 November - 28 November 2004
Introduction
An artist's book of lithographs, printed by Bon a Tirer Editions, Glasgow and Peacock Visual Arts Studios, Aberdeen
This is the first exhibition of Lamb's latest work: an artist's book of lithographs printed by her in collaboration with Peacock Visual Arts Studios in Aberdeen, and completed in March 2004.
Nagasawa is a rural area within Awaji Island, Japan, where Lamb has completed two residencies (2000, 2004) - one in Japanese 'mokuhan' woodblock printing, the other in traditional Japanese papermaking.
The title uses old Scots cleaver language: cantrips ranslates as 'magic' or 'spells'. Nagasawa Cantrips means therefore 'Nagasawa Magic' - and is a reflection of the artist's experiences in Japan.
The exhibition also includes eight framed lithographs (paper size 53 x 25 cm), all from the book, and Chimera ' an aluminium screen (five sections, each 260 x 36 cm) with digital prints on trugrain - many of the images used are again taken from Nagasawa Cantrips.
The dominant image of Nagasaw Cantrips is that of a beautiful, oval mirror - executed in chine colle. As in her 1999 series, Klecksographie, Lamb builds up many-layered lithographs in glorious colour and colour combinations where elements of text combine with visual image. Japanese text joins forces with Lewis Carroll in Matsu, for example, and elsewhere quotations appear from Edmund Spenser's Faerie Queene, from John Donne and E E Cummings, as well as from a more immediate e-mail. Her wonderful Crow image from the Klecksographie series uses quotations from Ted Hughes and a drawing of the March Hare - the same drawing is used in Nagasawa Cantrips, and creates an immediate entry to the world of fairytale magic.
Artists in this exhibition