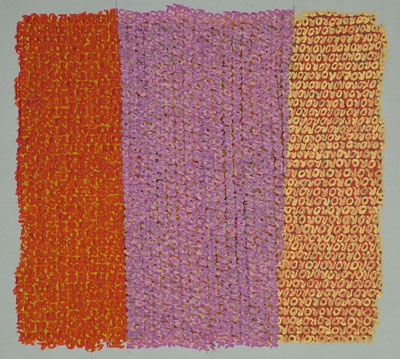 Matt MCCURDY
Paintings 2000 - 2008
14 June - 27 June 2009
Introduction
Matt McCurdy was born in Glasgow in 1959. He graduated from Glasgow School of Art in 1985. He lives and paints in Cairnbaan (near Lochgilphead ), in Argyllshire. He has taught within the Scottish Prison system - through Motherwell College - since 1991, and at Barlinnie Prison since 2000. This is his first exhibition since 1997.
Matt McCurdy's painting in the years following graduation was figurative, colourful, expressionist - and very well-received by critics across the board. He was described as a painter's painter - someone who was excited by the physical act of painting, whose subject was the relationship of the human figure to nature. (In the 1980s Glasgow, along with other Scottish art schools, was still committed to teaching life study and draughtsmanship). Richard Demarco placed McCurdy within the classical tradition of European figure painting:
'The human figure is seen to belong within the molecular elemental nature of fire, earth and water.' (Aiming for the Solar Plexus, Arts Centre, Darlington, 1992).
'The figure has the appearance, stuff and substance of landscape itself.' (New Paintings, Gateway Gallery, Edinburgh, 1988).
By the mid-1990s, however, McCurdy had moved away from figuration and an expressionist mode of painting towards larger canvasses and a well-defined abstraction. The geometric elements - circles, triangles, zigzag lines - which had become part of his vocabulary by 1992 were now his dominant language. His solo exhibition at the Lillie Art Gallery in 1997 - his last for a decade - was titled Coded Images, and the break from his recent past was clear-cut and resolute. The paintings in this exhibition continued to use colour as their principle vehicle of expression: saturated colour fields - sometimes in contrasting bands - were articulated by grids, circles, triangles and crosses.
McCurdy has been attracted to national flags since childhood, enjoying their vibrant colours and strong graphics. Paradoxically, he recalls that his mis-trust both of identity derived from nationality, and of belief systems based on religion are equally deep-rooted, and this mis-trust continues to shape his thinking. It's no surprise therefore to find that the art of Jasper Johns was a strong influence on him in the late nineties. More surprising perhaps is finding Gore Vidal in his personal pantheon. Vidal's memoir of his early life - Palimpsest (1995) - marked a turning point for McCurdy. At a time when he was probing the way forward, the music of Steve Reich was also influential in its use of repeated pattern and overlapping rhythms.
During the past decade McCurdy has turned his painting technique on its head, as he came to terms with a radical need to break out of well established routines. He chose to introduce random elements to the construction of the painted surface : from colour selection to the manner in which the surface is built up, using letters layered in series. Jasper Johns' use of words, letters and numerals across his paintings of the late fifties and sixties was a starting point. The title of Vidal's memoir brings the concept of erasure and overwriting to the process. McCurdy's painted surfaces became closely worked and dense, and suggestive of textiles , with their accompanying notions of comfort and security. It is however a strangely dis-quieting sense of comfort, unexpected and seemingly inappropriate; shocking, even.
The titles of these paintings are analogous in their make-up to the fishing port identification letters which are found on all Scottish fishing boats. They relate to
a country or place of origin, but the flag paintings, as with the more recent map paintings, have something of the generic about them. They are interpretations, slowly and painstakingly worked over many months and sometimes years. In this year of Darwin celebrations, it is tempting to argue that these paintings are raising questions about territorial imperatives: Were the paintings not so aesthetically seductive, the case would be made.
JH
Artists in this exhibition