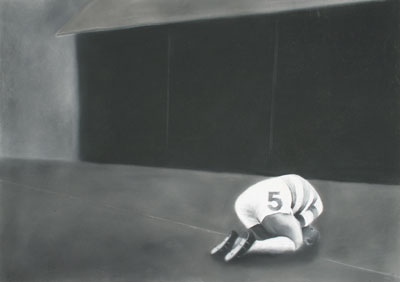 Kate ROBINSON
The Big Game
14 November - 03 December 2005
Artist's Statement
I won't forget the feeling of going to see my first football match - this year, in the run-up to making the memorial sculpture of Brother Walfrid for Celtic Park - or 'Paradise' as it's known. These drawings, inspired by Walfrid, are my expression of that feeling.
KR
Catalogue
*Pitch*
*1951 Scottish Cup, Motherwell v Celtic, Hampden Park*
*Dens Park, 1961*
*Stevie Chalmers, 3-0 victory over Dynamo Zagreb, Cup Winners' Cup, December 1963*
*Celtic v. Dundee, Parkhead*
*Attendants*
*1957 Scottish Cup Replay, Rangers v Celtic, Ibrox*
*Untitled*
*Abdul Salim c. 1936*
*Goalie c. 1950 (Dick Beattie)*
*1969 Old Firm Scottish Cup Final*
*Paradise*
'A Search for the Source of the Whirlpool of Artifice' : (Dunedin Academic Press)
NB New publication date : 2 February 2006.
All drawings are pastel and pencil, and dated 2005.
Artists in this exhibition